We are making significant progress towards our goal of 100% clean energy in Minnesota by 2050.
Image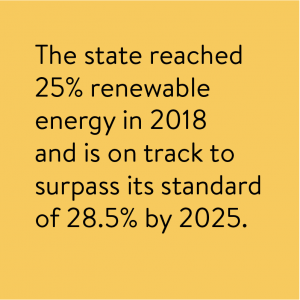 In March 2019, Governor Tim Walz and Lieutenant Governor Peggy Flanagan announced their One Minnesota Path to Clean Energy. This set of policy proposals will lead Minnesota to 100% clean energy in the state's electricity sector by 2050.
The policies build on Minnesota's past reductions of fossil fuels and aim to increase the use of clean energy resources while ensuring reliable, affordable electricity. Xcel Energy, Minnesota's largest utility, has publicly committed to generating 100% of its electricity from clean energy by 2050. The proposal focuses on three key areas: 100 percent clean energy by 2050, Clean energy first, and Energy optimization.
100 percent clean energy by 2050. This standard would require all electric utilities in Minnesota to use only carbon-free energy resources by 2050, while allowing each utility the flexibility to choose how and at what pace they meet the standard.
Clean energy first. This regulatory policy would require that, whenever a utility proposes to replace or add new power generation, it must prioritize energy efficiency and clean energy resources over fossil fuels.
Energy optimization. This proposal would raise Minnesota's Energy Efficiency Resource Standard for investor-owned electric utilities and expand the Conservation Improvement Program that helps Minnesota households and businesses save on their utility bills by using energy more efficiently.
More information: 100 percent clean energy in Minnesota by 2050 (COMM)