Robust public engagement can help state leaders advance climate solutions that address our challenges, respond to community needs, and bring new benefits and opportunities.
Everyone deserves a seat at the table. Envisioning our shared green future needs to be a collaborative effort where we listen deeply and work together in new ways.
Host a Climate Conversation

Solving the climate crisis requires participation from all parts of the state, people from all walks of life, and from the public and private sectors. Reducing climate impacts and adapting to climate change could also be an opportunity to make our communities more vibrant, equitable and sustainable.
Talking about shared goals and priorities is an important way to involve more Minnesotans in climate action. By hosting a conversation, you are helping build Minnesota's climate action and protect our future. Learn more or sign up to host here: https://engage.dnr.state.mn.us/mn-climate-action-framework-climate-conversations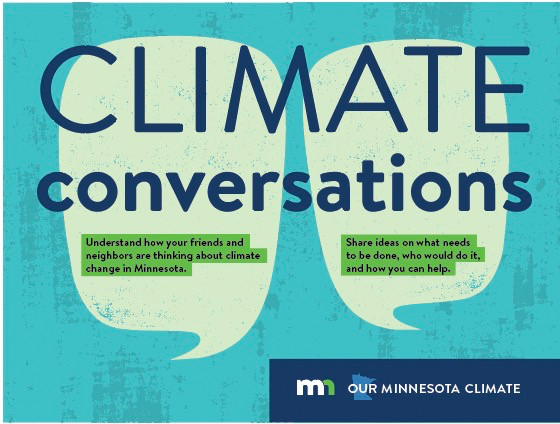 More opportunities to participate
Sign up for the Our Minnesota Climate email updates. Receive news on climate-related topics, events, newly-published reports, and opportunities to provide input. Follow the link to add your email to the list: Our Minnesota Climate GovDelivery sign-up