Ensuring that all Minnesotans have access to the cleanest vehicles available is a simple common sense approach to reducing carbon pollution in our state and helping us get back on track to meet our Next Generation Energy Act goals.
In 2007, Governor Tim Pawlenty signed the Next Generation Energy Act, which set a goal for reducing greenhouse gas (GHG) emissions in the state by 80% by 2050 (from a 2005 baseline). The act, which had bipartisan support in the state legislature, also outlined interim goals of a 15% reduction by 2015 and a 30% reduction by 2025, but we missed our goal in 2015 and we are not on track to meet future goals either.
Image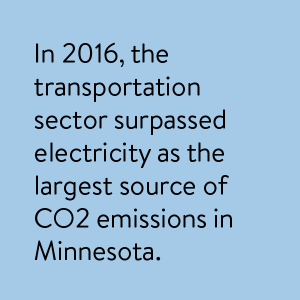 If we are going to address the climate crisis and make progress toward our statewide goals, we must take action to reduce emissions from transportation. In September 2019, Governor Walz did just that by asking the Minnesota Pollution Control Agency (MPCA) to start the rulemaking process to adopt two emissions standards that will reduce GHG emissions from passenger vehicles: the Low-Emission Vehicle (LEV) standard and the Zero-Emission Vehicle (ZEV) standard.
The LEV standard requires auto manufacturers to make passenger vehicles (cars, trucks, and SUVs) that produce less pollution and deliver them for sale in Minnesota. Vehicles that meet the LEV standard are also more efficient, which means consumers will save money at the pump.
In the market for a new electric vehicle (EV) instead? The ZEV standard improves consumer choice for vehicles with ultra-low or zero tailpipe emissions—like battery EVs and plug-in hybrids—by requiring auto manufacturers to deliver more of these vehicles for sale in Minnesota, increasing each year. Making the switch to an EV with zero tailpipe emissions can reduce your carbon footprint dramatically.
More information: Clean Cars Minnesota (MPCA)