Transportation is the number one source of carbon pollution in the United States, and became the single largest source of greenhouse gas (GHG) emissions in Minnesota in 2016.
Transportation emissions in our state have increased in recent years as Minnesotans buy more trucks and SUVs and drive more miles each year. Without targeted efforts, emissions from transportation will continue to increase, especially as federal policy rolls back vehicle efficiency regulations and GHG emissions standards.
Image

In 2020, the Minnesota Department of Transportation (MnDOT) created a new Sustainable Transportation Advisory Council (STAC) to advise the agency and provide recommendations for how we can transition to a low carbon transportation system while also promoting equity and economic development. The Walz-Flanagan administration believes that a broad group of stakeholders is needed to help the agency achieve this vision, and the STAC provides a unique opportunity to build connections with the agency's existing and nontraditional partners from the public, private, and nonprofit sectors.
Image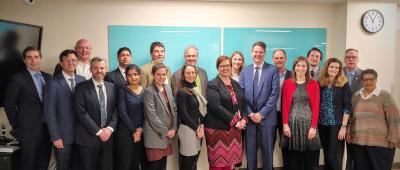 The STAC includes approximately 22 members appointed by the MnDOT Commissioner. The STAC is co-chaired by Chris Clark, President of Xcel Energy Minnesota and the Dakotas, and includes members from the public, private, and nonprofit sectors and members of the Minnesota legislature. System planning, project design, construction, and maintenance are all items for consideration. The council will submit a report each year to summarize its work and make specific recommendations for how the agency can reduce carbon pollution.
More information: Sustainable Transportation Advisory Council (MnDOT)
Photo: MnDOT