Farms that complete the certification program see an average greenhouse gas emission reduction of 37 tons per practice implemented per year.
Started in 2013, the Minnesota Agricultural Water Quality Certification Program (MAWQCP) is a voluntary opportunity for farmers to implement conservation practices that protect our water, soil, and wildlife, while reducing emissions. The MAWQCP partners with the Minnesota Pollution Control Agency (MPCA) to quantify estimated greenhouse gas emission reductions from 21 agricultural practices. These range from changing land use and cropping practices to nutrient reduction.
Image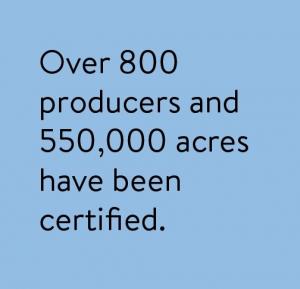 Between 50-60% of the new water quality practices implemented by certified growers are climate practices identified by MPCA. For applicable practices implemented through MAWQCP-certification, the average emission reduction is 37 tons per practice per year. All combined these achieve the equivalent of removing 8,000 passenger vehicles from Minnesota's roads each year.
The certification process assesses a farm's fields and cropping systems per an environmental standard based on the farm's water quality risk assessment. MAWQCP also promotes soil health, which increases carbon storage necessary for sequestration.
Three endorsements are available to farmers enrolled in the program for implementing measures that enhance wildlife habitat, soil health, and integrated pest management.
More information: Minnesota Agricultural Water Quality Certification Program (MDA)