Shrinking our carbon footprint by reducing our energy consumption slows climate change.
According to the U.S. Energy Information Administration, buildings and their construction together account for 36% of global energy use and 39% of energy-related carbon dioxide emissions annually. In the United States, residential and commercial buildings account for 40% of energy consumption. Add in that 95% of buildings in the United States are more than a decade old, one can see the importance of weatherization actions on climate change mitigation.
Image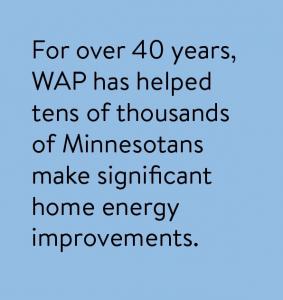 While some Minnesota homeowners, landlords, and business owners have made energy efficiency improvements, these enhancements remain financially out of reach for others. The Department of Commerce's Weatherization Assistance Program (WAP) works to help Minnesota residents reduce their energy use and costs.
Authorized by the U.S. Department of Energy, Minnesota's WAP serves households at or below 200% of the federal poverty income guidelines ($50,200 for a family of four). Priority is given to households with elderly or disabled family members, children, or high energy consumption. In Minnesota, the program is administered by the Commerce Department in cooperation with a network of local service providers.
Eligible residents can receive a free home energy audit to find opportunities for energy savings. After the implementation, some homes see as much as a 30% reduction in energy costs and usage. These savings can be achieved by improvements such as exterior wall and attic insulation, air leakage reduction, HVAC repair, or replacement, as well as other ways to reduce energy consumption.
More information: Weatherization is a win-win for Miltona man, Minnesota (COMM)